CULTURALS HOSTEL 9
Hostel 9 Culturals does not have a long past, whatever it was, but now it is something to be proud of and has contributed immensely in building hostel and Institute culture of IIT BOMBAY!!
Culturals give you a platform to live your passion, which elevates a soul to do great things. In less than a decade time H9 Culturals grew from nowhere to bagging top positions in various genres of cult events.
Culturals provides an opportunity to develop one's personality and enhance bonding with the hostel and it's inmates. From an alum's perspective the things you enjoy in the hostel and insti are the ones which you'll never forget life-long.
DRAMATICS
---
Hostel 9 has been the house of many talented actors and script writers who make great efforts to take our hostel to new heights in the field of drama.We always aim to be the best and will continue in coming years. Hostel 9 collaborated with Hostel 5 to put up an MDGC performance for the ages.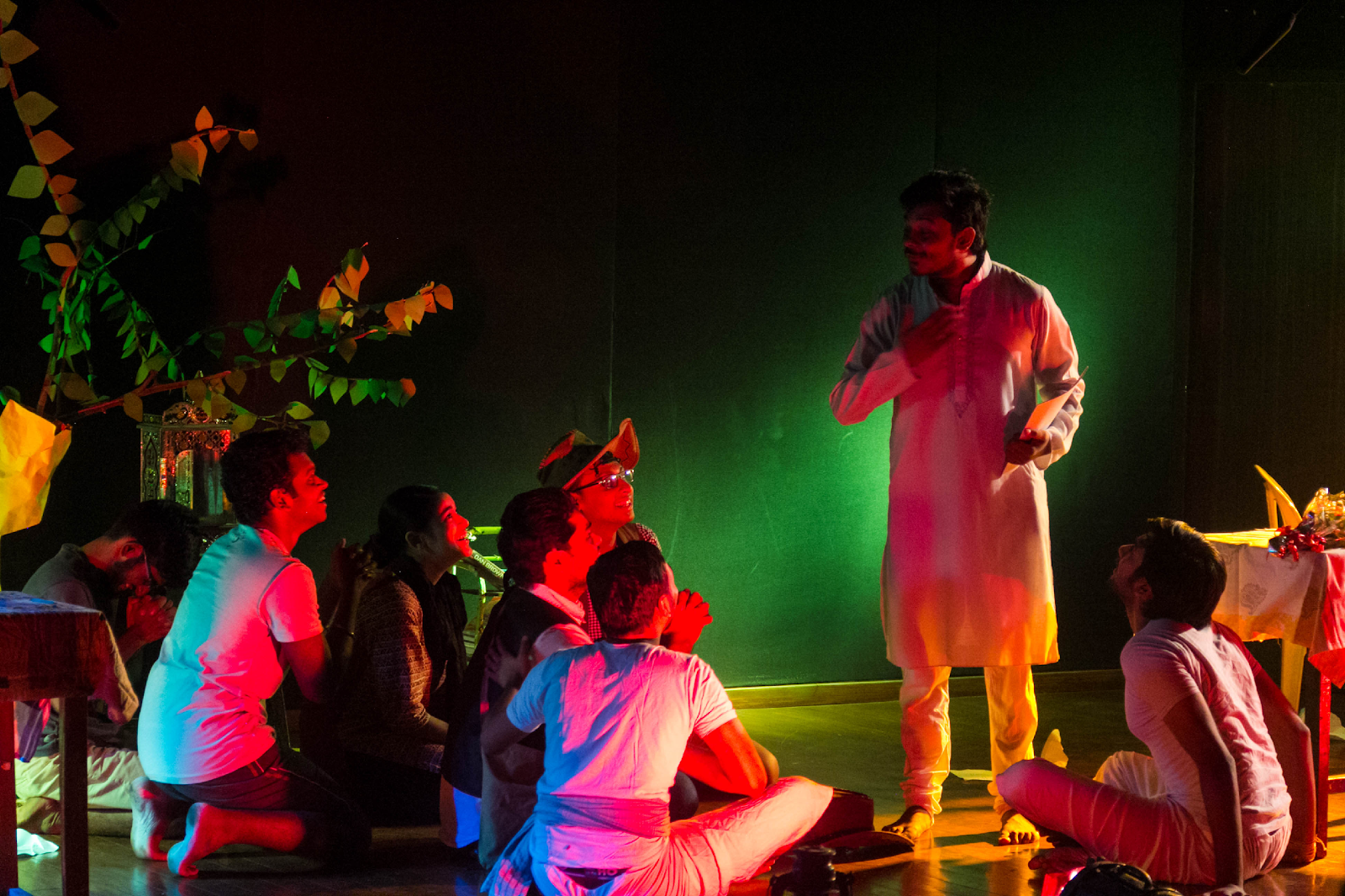 'Apoorva' was decorated with Gem of the GC, Best Script and Best Direction awards apart from securing the 1st position in MDGC 2018.
The performance can be viewed here
Street Play GC was held for the first time last year and carrying on with the good work, we secured 3rd position in Street Play GC 2019 among some really outstanding plays.
LITERATURE
---
The Literary and Speaking Arts section saw many changes this year. From the newly improved and updated hostel library to the significantly higher positions tally in the hostel General Championships, we as a hostel, have improved a lot. This includes three positions in top five in the English Poetry Writing and Recital GC, and a second position in the Kavya Sandhya GC. The updated library, (again, thanks to the residents' hunger for reading) now includes many new titles spreading over many genres (including the much-awaited Harry Potter series!). The number of book issue requests was the highest the hostel has ever known, the GC participation was off the charts, be it word games, general quiz, debate or poetry which proves, given the right motivation and support, we nawabs can rule them all, whatever the game is.
Film and Media
---
Impressed by the Films and youtube videos of h9? Well, it's the Film and Media aka FnM department of hostel 9 IIT BOMBAY which makes it possible.
This video was made by our team from hostel nine. It looks at the song with a different perspective, giving it a new story which does justice to all the lyrics. It was edited by Tanmay Pathak, shot by Aashish Prateek.
DANCE
---
We, the dance department of Hostel 9 surely do believe that and it is indeed portrayed through our Dance Mania,Gyra performances. Our Hostel has seen constant improvement in its Dance Culture and participation bagging 4th position in Gyra 2019 and our latest accolades include 4th position in Sophie Dance League.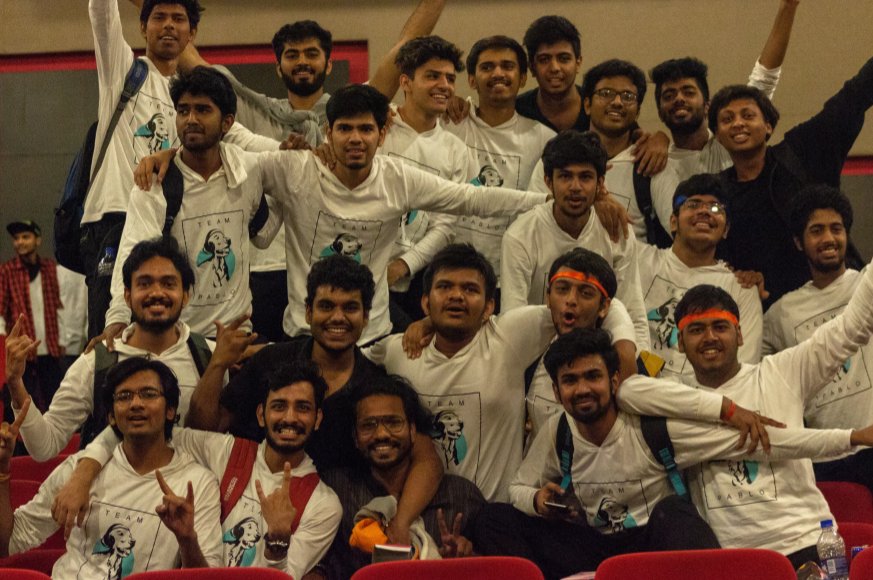 We also have a fully equipped Dance room open for all the hostel mates to dance their hearts out.
DESIGN
---
For the past many years, Design has been one of the strongholds of our hostel, and this year was no different. Extending its support to almost all other cultural and administrative sectors of the hostel, it also had its own times to shine at the front.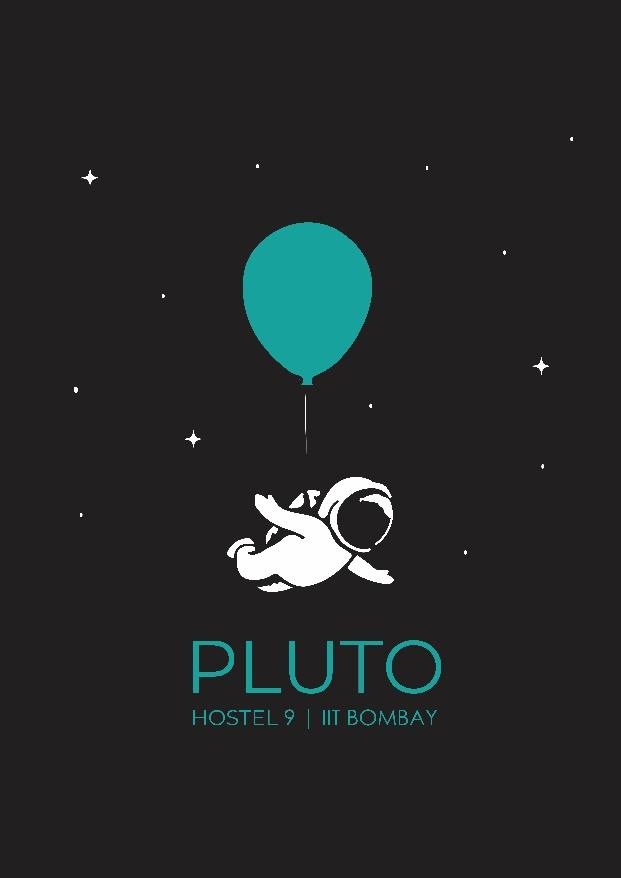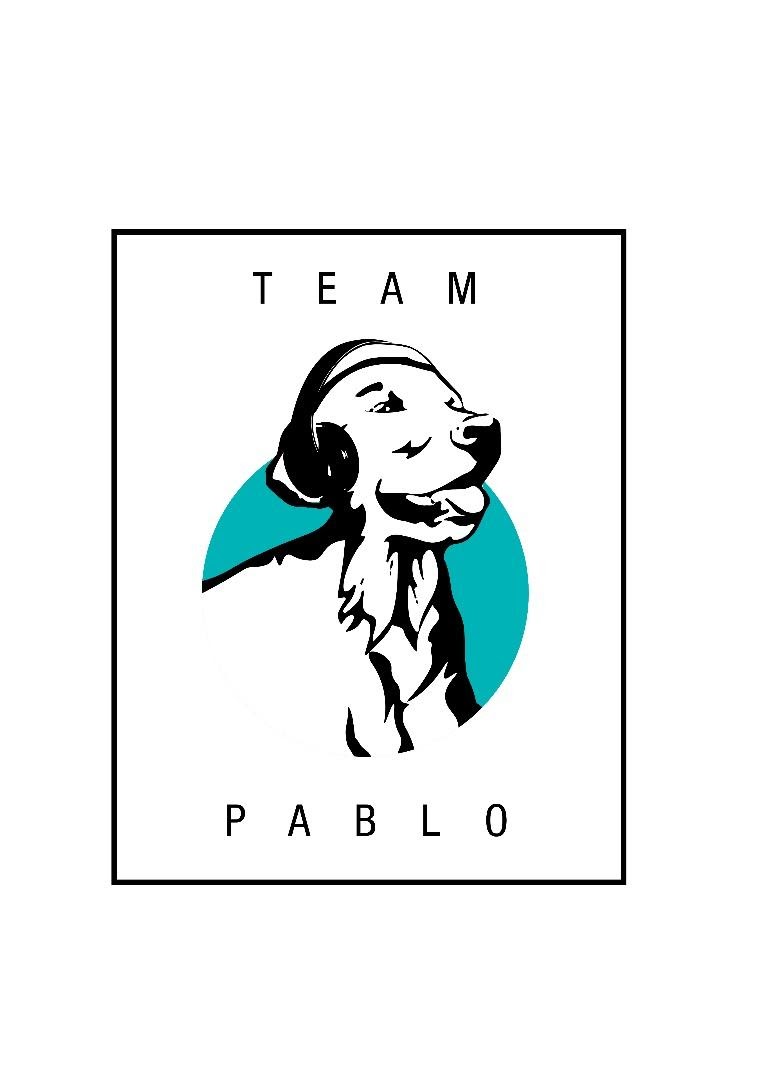 From the costume of our talented dance team, to the Hostel 9 t-shirts, we have it all to show off. For last year's Design GC, Hostel 9 held the overall 1st position as both our entries won the top accolades.
MUSIC
---
We had 2 bands performing for us in the Music Arcade 2018-19. At this stage, we realized that our hostel had got some very enthusiastic and skilled freshers in the music genre.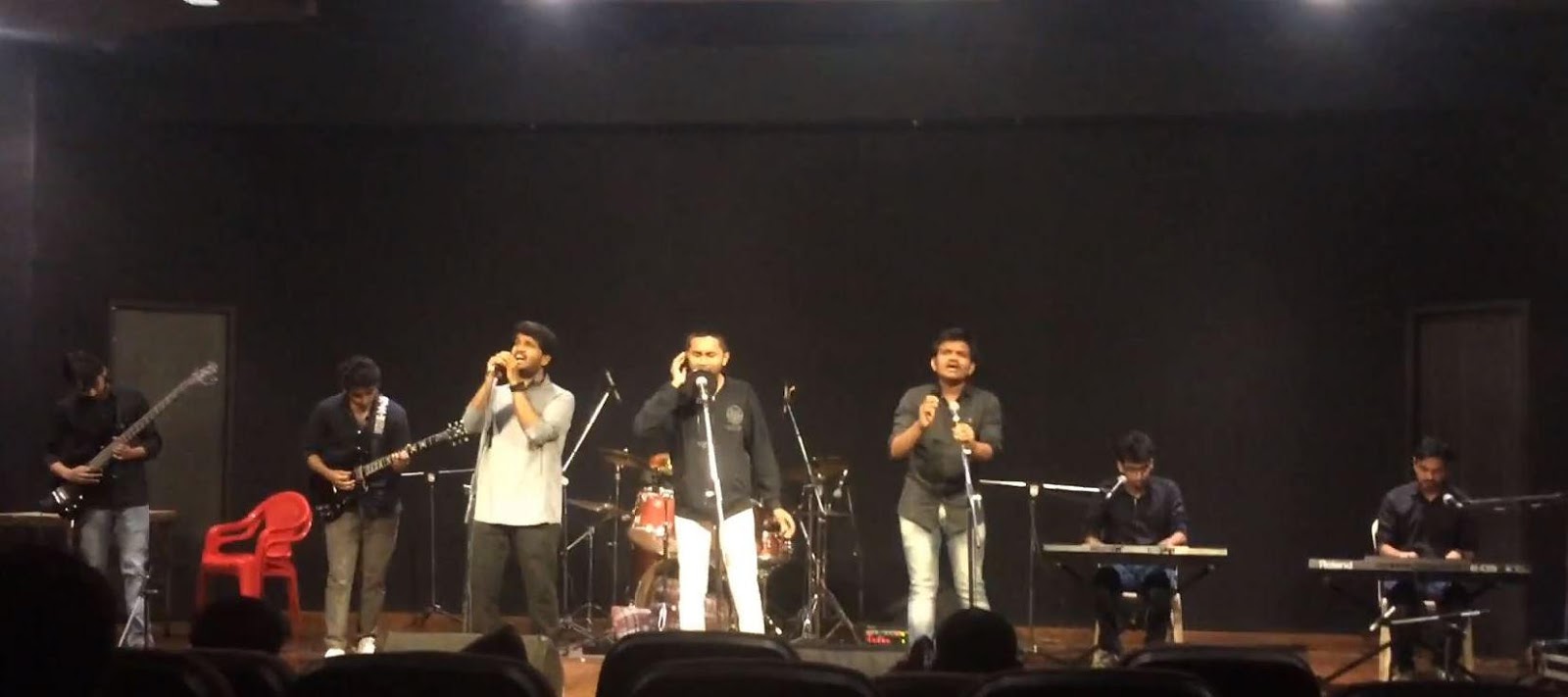 From being nowhere in the music culture in the institute to bagging the 4th position in Goonj 2019, we have seen a massive increase in interest and participation from our hostel mates towards music. Having a full fledged music room containing a wide variety of musical instruments such as keyboard, guitar, drums, etc. everyone is welcome to join us and perform be it for random jamming sessions, open mics, arcade performances or GCs.
SOCIAL
---
The 'Matki Phod' event in Janmashtami saw many residents coming together to breach that hurdle while an equal number was on the other side trying to stall them. An idol of Ganpati Bappa graced the hostel mess during the days of Ganesh Chaturthi and Anant Chaturdashi. Diwali saw the whole hostel being beautifully lit with residents coming together for an evening of photoshoots & firecrackers. It was capped off with lighting hued lanterns.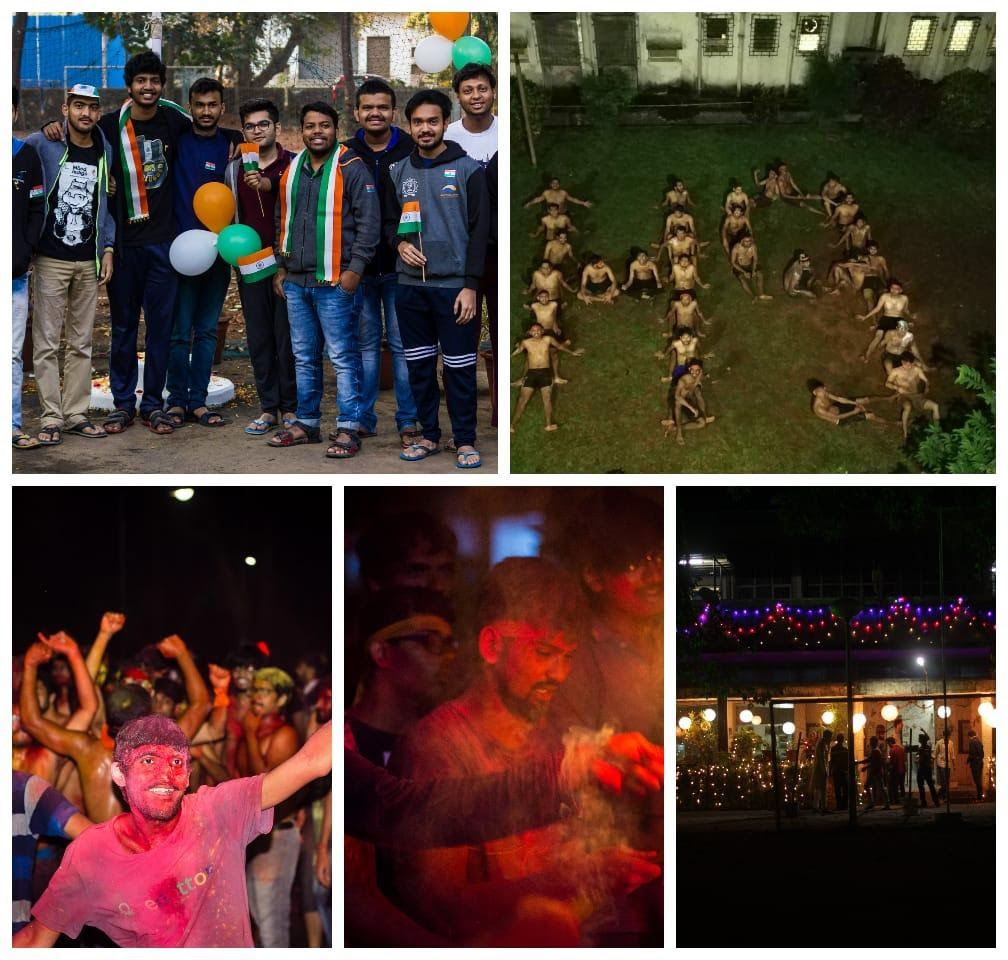 Flag-hoisting on Independence Day and Republic Day infused the nationalist sentiments in the residents with Warden Sir also gracing the occasions. Every year we also organize our much awaited hostel fest "Nautanki" which is the best hostel fest in the insti and these 3 days full of fun games, activities and competitions are the best days of your hostel life.
GENERAL CHAMPIONSHIPS 2022
Dry Medium - 1st Position
Anubhab Ray
1st Position
English Creative Writing - 1st Position
K Raghuram Chakravorthy
1st Position
Hindi Creative Writing - 2nd Position
Pratham Kapure
Joint 2nd Position
Aashwin Agrawal
Joint 2nd Position
Photography - 1st Position
Aradhya Agarwal
2nd Position
Yash Patil
3rd Position
Devanshu Saraf
4th Position
Standup Comedy - 1st Position
Abhigyan Jha
1st Position